Eco-Friendly Repreve Fabric
Expand your sportswear catalogue by offering custom uniforms made with recycled polyester fabric from major brands like Repreve and #tide.
Differentiate with

Eco-friendly Products
As everyone tries to do their part to help with environmental issues, consumers are looking for ways to have an impact through their purchases.
By offering Repreve recycled fabric made from plastic bottles, you give your customers that opportunity to be part of the solution. We currently stock their performance 160GSM Repreve sublimation fabric which can be substituted for any apparel using a similar weight.
Why Make The Move To Eco-Friendly Sportswear? ​
Big brands like Nike, Adidas, GAP, The North Face, and Under Armour have also partnered with REPREVE. Become part of the revolution.
REPREVE is a sustainable and innovative company that works to reduce plastic pollution in the world. Aside from Repreve fabric, we also offer eco-friendly packaging alternatives for your brand and green marketing initiatives.
Gain Competitive Advantage
REPREVE has relationships with many brands who trust them enough not only to produce their products from recycled materials but also help care for our environment by reducing waste.
Become Socially Responsible
Using eco-friendly sportswear can help you establish a socially responsible company. Not only will it improve your brand image, but also support the community as well.
Repreve Fabric by the Numbers
 Recycling more than 30 billion plastic bottles!
Brands Using repreve eco-fabric
The world's leading brands utilize REPREVE's innovative fiber to make award-winning apparel. This is because they transform recycled bottles into an incredible fabric with properties like wicking, adaptive warming, and cooling properties for reliable durability and water repellency too!
REPREVE transforms recycled bottles into fabric. Their high-quality fibers are made from 100% recycled materials, including post-consumer plastic bottles and pre-consumer waste. They are also certified and traceable.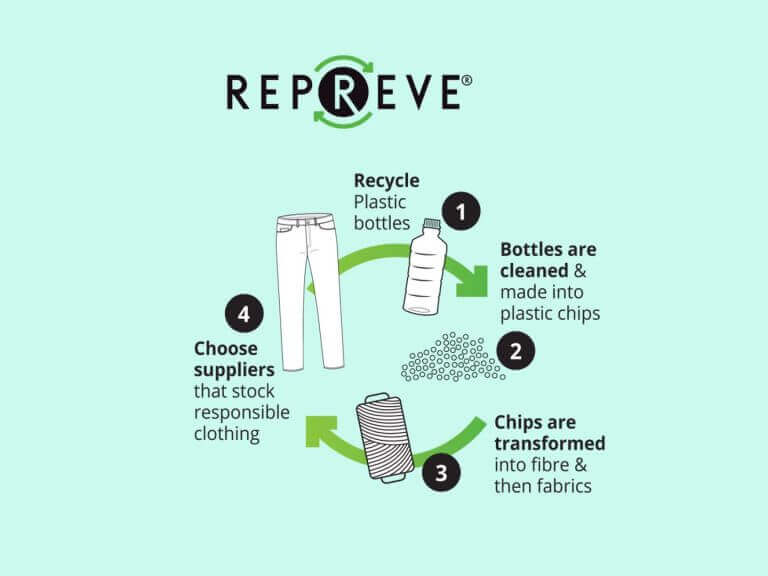 Trusted By Major Sports Organizations ​
Not only the world's leading brands but also sports organizations like Pac-12 are turning to REPREVE for their needs for sustainable fiber. They have partnered up to support and help produce this revolutionary fabric to make high-quality products from trusted recycled content.
So start your sustainable journey today by sending us your new custom designs.