Introduction
Confused about DTF and DTG? You're not alone. These two popular print methods each have their pros and cons, and picking the right one can be a maze. But don't worry, we're here to help you navigate through it. Whether you're launching a fashion brand or just curious about print tech, this is your go-to guide for understanding the ins and outs of DTF vs DTG.
DTF Apparel Printing
DTF (Direct-to-Film) is relatively new but fast gaining attention. Its prints are sharp, colorful, and designed to last. DTF printing is great for adding detailed designs and text to a wide range of materials. Additionally, DTF is affordable, offers a spectrum of colors, and works well with cotton, polyester, nylon and fleece.
Direct-to-film printers range from $3000 for entry-level DIY models to over $20,000 for industrial-level printers.
How Direct-to-Film Works
Here's how a design goes from a concept to a physical product in DTF:
1. Print your design on special transfer film using water-based inks
2. Apply an adhesive powder to the ink
3. Transfer the design to the fabric using heat
It sounds complex, but guess what? It only takes a few minutes per garment.
DTG Apparel Printing
DTG (Direct-to-Garment) is a veteran in the print industry, celebrated for its high-quality and full-color prints. These prints feel soft and breathable, making them a go-to for many. Best for natural fibers like cotton and bamboo, DTG has carved out a significant place in the print world.
Direct-to-Garment printer's prices range from $2,000 for entry-level DIY models and can go up to $30,000 to $100,000+ for industrial-level machines, with mid-range and professional-grade options falling in between, catering to various business needs and budgets.
Consider your production volume and quality requirements when selecting the right DTG printer.
How Direct-to-Garment Works
Here's how a design goes from a concept to a physical product in DTG:
1. Pre-treat the garment
2. Mount it and spray the design on using water-based inks
3. Cure the ink to enhance durability
And just like that, your design is ready to wear—in a matter of minutes!
Pros & Cons of Each
When comparing textile printing techniques, both Direct-to-film (DTF) and Direct-to-garment (DTG) present distinct advantages and challenges to consider. Let's take a look:
1. Quality and Resilience
DTF provides crisp and stretchable prints that can survive cold washes. However, scalding hot water might lead to minor cracking. DTG prints feel smooth to the touch, and they're built to last. However, the colors may not pop as much, especially on darker garments.
2. Complexity and Creativity
DTF takes the cake for complex prints—it can handle anything from gradients to highly detailed designs. DTG does well with colorful and intricate designs too, but the fabric's absorbent nature can sometimes affect clarity.
3. Colors Vibrancy
DTF uses CMYK plus white ink to make your design vibrant on any fabric type. DTG also relies on CMYK, but it might not be as vibrant since the fabric absorbs some of the ink.
4. Fabric Compatibility
DTF wins in versatility, working well on a wider range of materials. DTG, on the other hand, prefers natural fabrics like cotton or bamboo.
5. Minimum Quantity
Both methods are champions for small and large orders, making them ideal for print-on-demand or bulk production.
6. Eco-Friendly Factor
DTF and DTG both score points here. They use water-based inks and contribute to minimal waste, aligning with a sustainable ethos.
7. Costs
Partnering with a print-on-demand provider means no upfront costs for you. When venturing into the realm of do-it-yourself (DIY) solutions, it's prudent to meticulously evaluate the expenses associated with both equipment and materials for each chosen method.
Notably, these costs encompass not only the initial investment in machinery but also ongoing expenditures related to maintenance, consumables, and workforce training. By comprehensively assessing these financial considerations, businesses can make informed decisions that align with their budgetary constraints and operational objectives.
This strategic approach ensures that the chosen DIY path optimizes efficiency and cost-effectiveness while meeting the unique demands of the B2B landscape.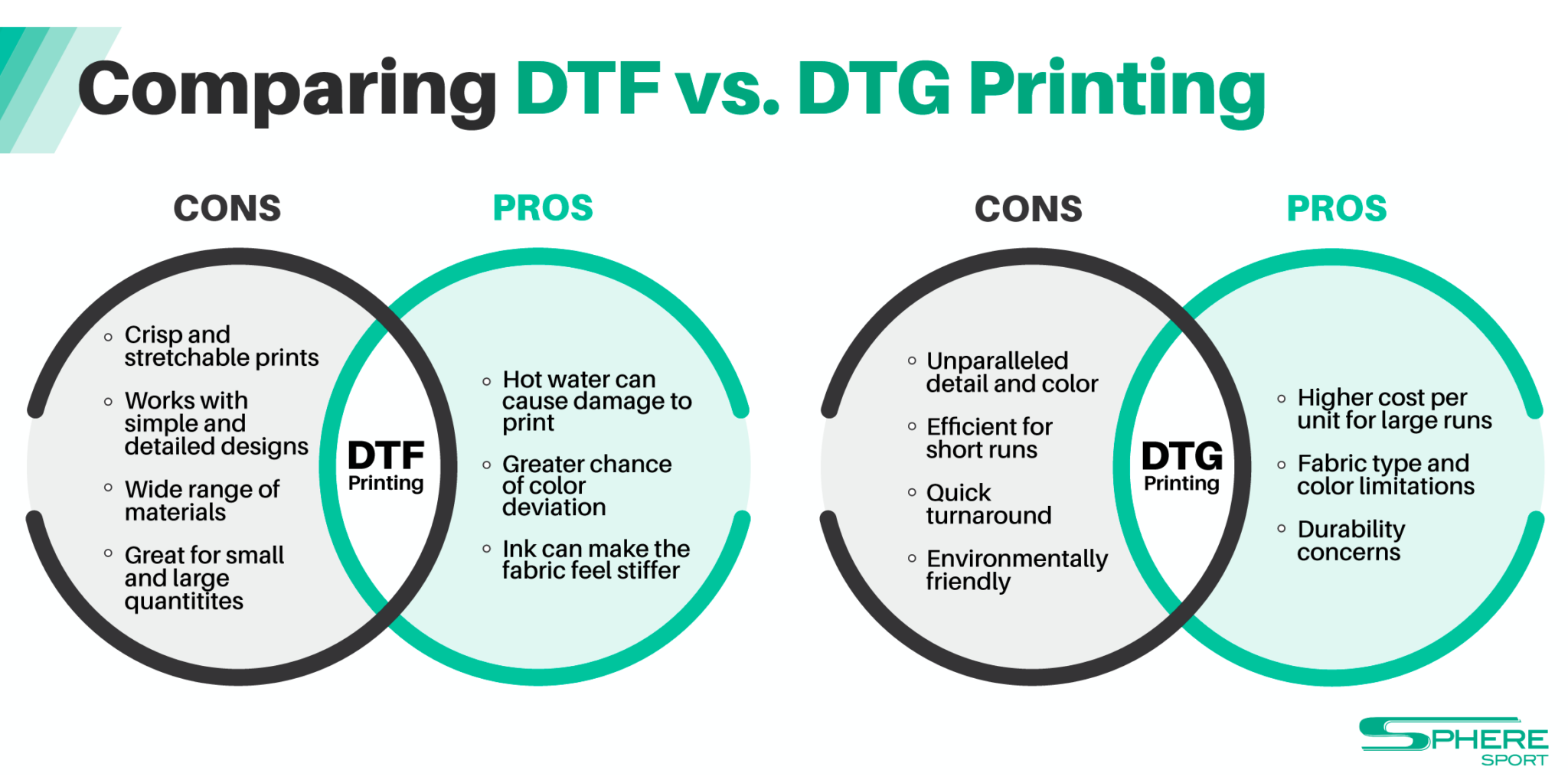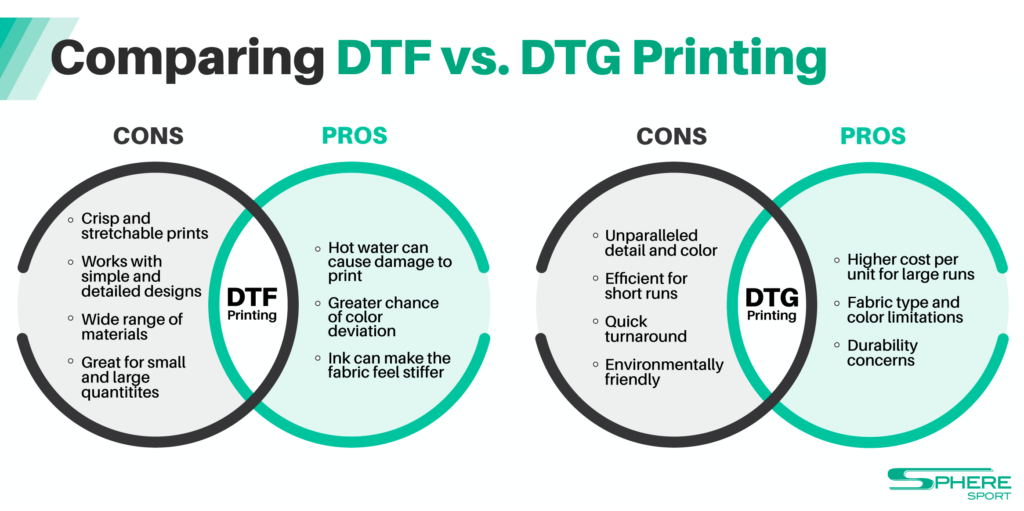 When to Use DTF vs DTG?
Opt for DTF when:
You're dealing with various fabric types.
You need high detail and color vibrancy.
Opt for DTG when:
You're focused on natural fabrics.
You want breathable, large designs.
Direct-to-Film vs Direct-to-Garment FAQ
1) Which lasts longer, DTF or DTG?
DTF tends to be more resilient over time, provided you follow care instructions.
2) Is buying a DTF printer a worthy investment?
It depends on the needs of your business. Direct-to-Film printers can cut your per garment costs, but you'll need to factor in the additional time and complexity of doing your printing in-house as opposed to outsourcing the production.
3) What's the life span of a DTF print?
With proper care, DTF prints can endure for a very long time without fading or cracking. However, much depends on using high quality inks and fabrics, along with the intended use of the apparel.
4) How does DTF stack up against screen printing?
DTF is preferable for complex designs and smaller orders. Screen printing excels at simpler, bulk orders.
Conclusion
Choosing between DTF vs DTG can be tricky, but the good news is that both have something fantastic to offer. The best way to know which one fits your brand or project is to test them out. Happy crafting!
If you're looking for an overseas sports apparel manufacturer capable of DTF & DTG, along with many other production methods, Sphere Sport has you covered.
Contact us today to see how we can help your brand.