Best Practices From a Hoodie Manufacturer
In today's highly competitive apparel market, your hoodie brand needs an edge. Learn how you can leverage hoodies to differentiate your apparel brand with the help of a leading B2B hoodie manufacturer, Sphere Sport.
In this blog, we're sharing industry insights and insider tips so you can create a truly unique and exceptional hoodie that resonates with your target market.
1. Choosing a Printing Method
When it comes to developing your brand's hoodie line, one of the most effective ways to create a visually striking and unique product is through custom prints. At Sphere Sport, we offer a range of printing options that allow you to bring your hoodie design to life. Here, we explore some of the popular print options available, each with its own advantages and characteristics.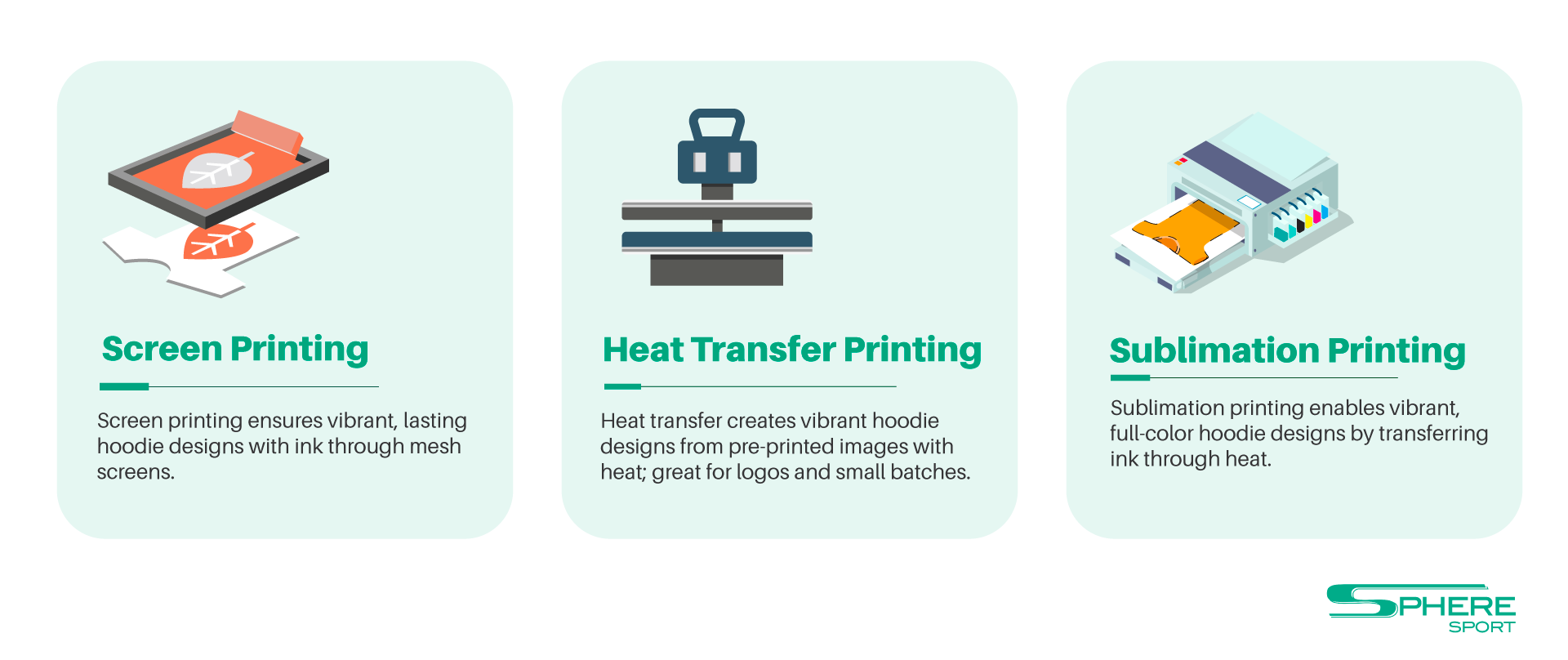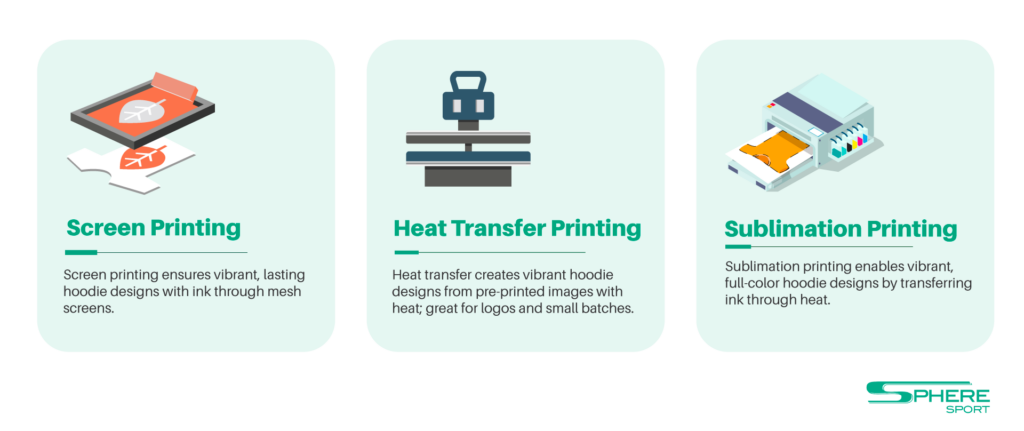 Screen Printing
This traditional method is one of the go-to method for hoodie printing since it works on almost any fabric, including dar one. This technique involves transferring ink onto the fabric through a fine mesh screen, creating vibrant and long-lasting prints. However, the more colors you choose, the higher the cost. So if you're getting a small run, keep the print simple to avoid high set-up charges.
Heat Transfer Printing
For those eyeing a shiny metallic or full-color design without breaking the bank, heat transfer printing is the way to go. This method creates a thin plastic coating on the fabric, which may affect breathability. So you can minimize or avoid solid designs if you don't want that. Keep in mind your desired effect, and you can achieve a unique look for your hoodies without compromising too much on comfort.
If you want to learn more about which is better between heat transfer and screen printing, check it here.
Sublimation Printing
If you're into an all-over print or full-color design, consider sublimation printing. It embeds the dye directly into the fabric without adding extra weight, preserving the fabric's comfort and lightness. This method offers extensive design freedom, allowing intricate patterns and and colors. It's a cost-efficient for both small and large orders. Just note that it's best suited for polyester and poly-blend fabrics.
As your custom hoodie manufacturer, Sphere Sport maximizes your printing options by including these three methods in our manufacturing offers. We will guide you in selecting the right process to ensure that your custom hoodie meets your specific needs.
2. Crafting Comfort with Fabric Options
Meanwhile, selecting the right fabric is crucial to achieving the desired level of quality, comfort, and visual impact. At Sphere Sport, we offer a range of fabric options to suit your specific requirements and design preferences. Let's explore some key considerations when it comes to fabric selection for your custom hoodie.
Sublimation or Pre-Dyed Fabric
The choice of fabric highly depends on your preference and design requirements. Sublimation fabric allows for full-color, all-over prints, making it an ideal choice if you want intricate designs or vibrant patterns to cover the entire hoodie. Meanwhile, pre-dyed fabric offers a wide range of color options and is suitable for designs that require solid or block colors.
GSM (Grams per Square Meter) Weights
When selecting the GSM weight for your hoodie, consider the intended purpose and seasonality. For instance, lightweight fabrics, typically ranging from 180-220 GSM, are perfect for transitional seasons or layering.
Midweight fabrics, around 240-280 GSM, strike a balance between comfort and warmth, suitable for everyday wear. For colder climates or winter apparel, opting for heavyweight fabrics, ranging from 300 GSM and above, provides insulation and durability against harsh conditions.
Fabric Composition
The choice of fabric composition greatly influences the performance, comfort, and aesthetics of your hoodie. For instance, cotton blends offer a soft and breathable feel, making them popular choices for casual wear. They provide natural comfort and excellent moisture absorption.
Meanwhile, polyester fabrics offer durability, wrinkle resistance, and color retention, making them ideal for athletic or active wear. They also have moisture-wicking properties, keeping the wearer dry during physical activities. Performance fabrics, such as moisture-wicking blends or fleece materials, offer enhanced functionality, stretchability, and thermal insulation, catering to specific sports or outdoor activities.
By carefully considering the fabric materials, you can ensure that your brand's hoodie not only looks visually appealing but also provides comfort and durability. As your hoodie manufacturer, we work closely with you to understand your design vision and recommend the most suitable fabric choices to bring it to life.
3. Exploring Hoodie Garment Styles
Selecting the right garment style plays a vital role in capturing your target audience's attention and aligning with your brand identity. At your hoodie manufacturer, we offer a diverse range of hoodie styles to cater to your specific needs and preferences. Let's explore some of the hoodie styles available, each with unique features and benefits.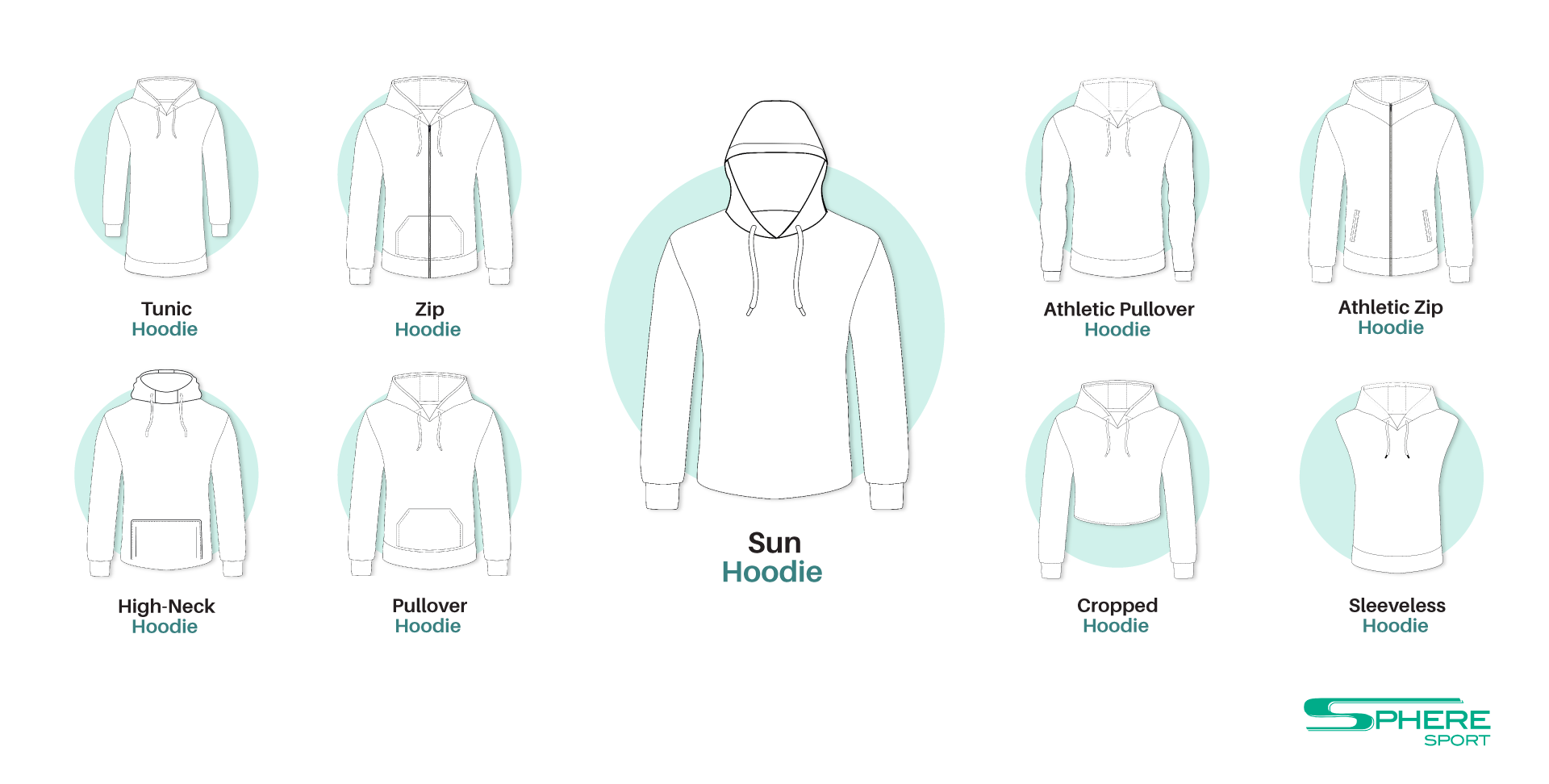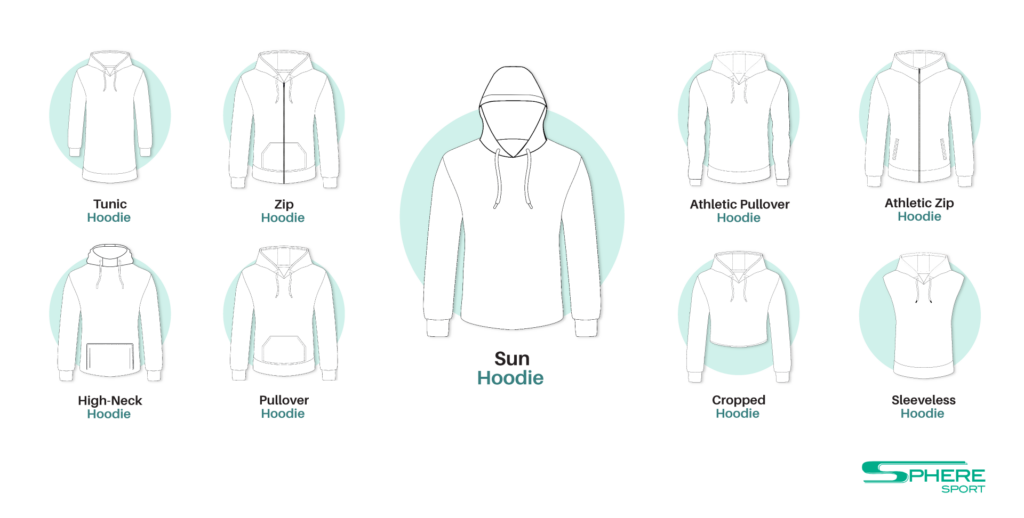 Athletic Hoodies: Athletic hoodies, like a soccer hoodie, aim for performance. They wick moisture for quick sweat evaporation, keeping the wearer dry. Features like breathable mesh panels, thumbholes, and adjustable hoods enhance comfort. They're great for sports and fitness brands aiming to provide apparel that supports an active lifestyle.
Sun Hoodies: Sun hoodies are perfect for outdoor activities. These hoodies are made from fabrics with built-in sun protection properties. They often incorporate lightweight and breathable materials to ensure comfort even in warm conditions. They're excellent for brands targeting outdoor enthusiasts, beachgoers, or those who prioritize sun safety.
Crop Top Hoodies: These hoodies bring trendy fashion, with a shorter length typically ending above the waist. Pair them with high-waisted bottoms or longer tops for a contemporary outfit. They're popular with brands targeting younger audiences or those seeking fashion-forward appeal.
High-Neck Hoodies: High-neck hoodies offer extra warmth with a higher collar. They suit colder climates and those wanting a snug fit. High-neck hoodies can come with drawstrings or zippers to adjust the level of coverage in different weather conditions. They bring a sleek look and are suitable for brands seeking a modern, polished appearance.
As you hoodie manufacturer, we have a wide range of style options to cater to your brand's specific needs. Let us help you tailor the perfect hoodie style that that resonates with your customer base.
4. Deciding for Pocket Styles
Pocket styles not only add functionality but also contribute to the overall aesthetic appeal of the garment. As your hoodie manufacturer, we offer a range of pocket styles to suit your design preferences. Let's further explore different pocket styles and their unique features.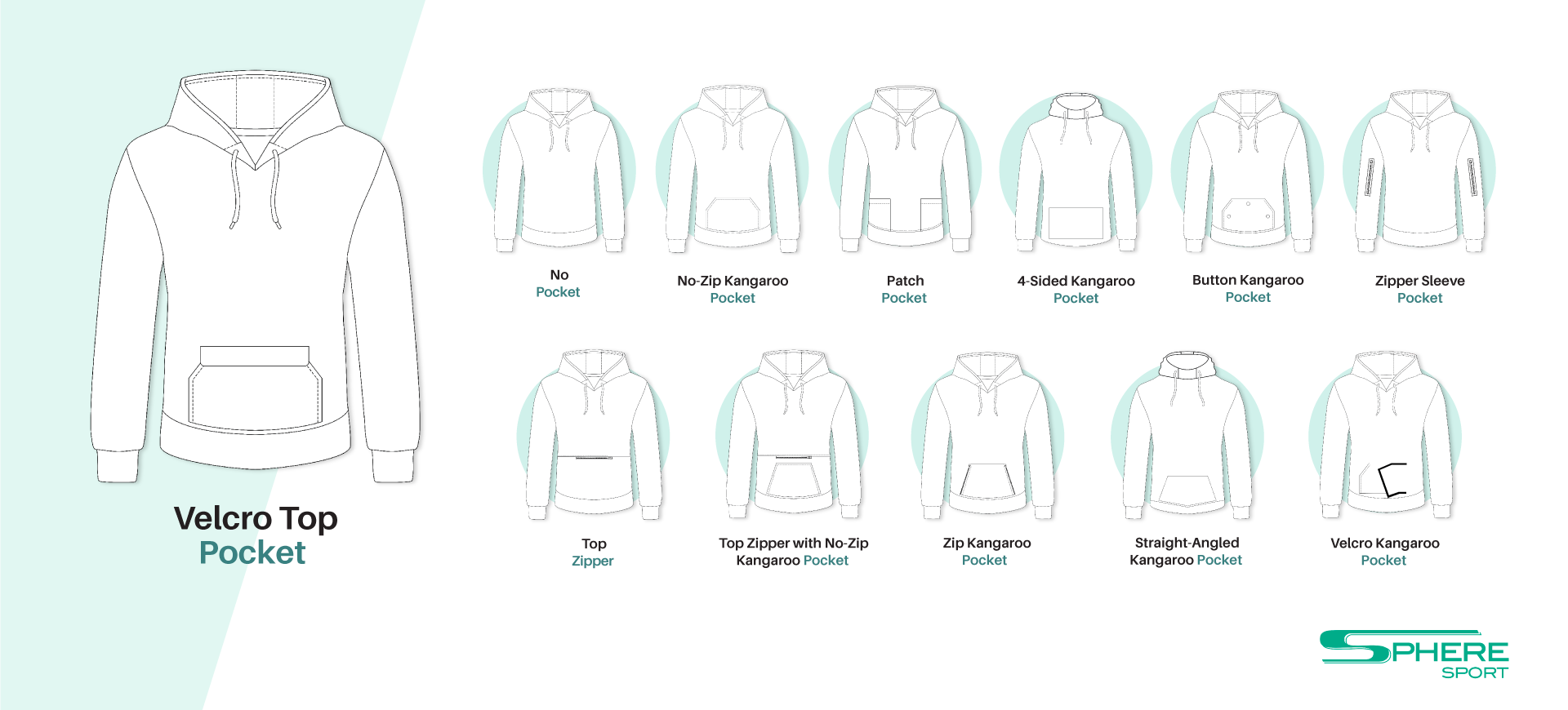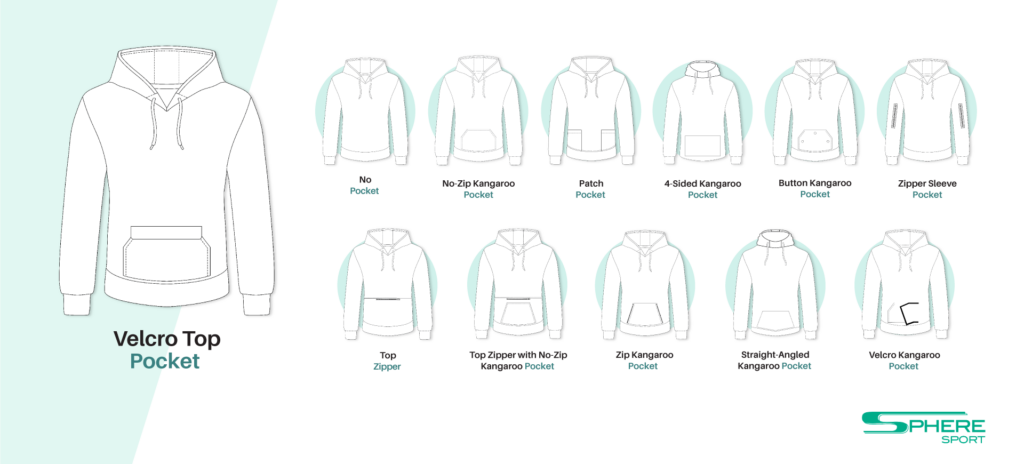 Zip Pockets: Zip pocket in hoodies offer secure storage for valuables. Ideal for brands that target customers with active lifestyles.
Kangaroo Pockets: Kangaroo pockets in hoodies add a relaxed and casual vibe. They are popular among brands that emphasize comfort and a laid-back style.
Arm Pockets: Arm pockets are often seen on performance or tactical hoodies. These pockets are typically located on the upper arm and are secured with a zipper or velcro closure. They offer convenient access to small items like keys, cards, or small tools.
Velcro Closures: Velcro closures provide an adjustable and customizable option for pocket closures. This style offers versatility, catering to brands that value convenience.
No Pockets: Some brands prefer hoodies without pockets. No pocket hoodies offer a modern and fashion-forward appeal, appealing to brands with a minimalist or contemporary brand identity.
As your hoodie manufacturer, we know pocket styles matter. We can customize placements or incorporate multiple styles to find the right balance between function and style.
5. Customizing Zipper Pulls
Even the smallest details, like zipper pulls in hoodie, affect branding. They serve a functional purpose and offer a chance for personalization. As a hoodie manufacturer serving apparel brands for many years, the following are some of the most popular zipper pulls.


Standard Zipper Pulls: These give a clean, classic look. Also available in various colors and materials, ensuring a seamless integration with your hoodie design.
Custom-Shaped Zipper Pulls: Custom-shaped zipper pulls incorporate your logo or unique design. They serve as a subtle branding tool that leaves a lasting impression on your customers.
Branded Zipper Pulls: These are customized with your brand's visuals, such as engraved or embossed logos. Thus, adding professionalism and reinforce your identity.
Zipper pull customization elevates your hoodie offerings. It strengthens brand recognition and create a cohesive brand experience. Our team is ready to collaborate with you, ensuring that your hoodie design is complemented by zipper pulls effectively.
6. Selecting String Styles & Caps
In addition to zipper pulls, another detail that can elevate the overall look of your hoodie is the string style. As your hoodie manufacturer, we offer a range of string styles to suit your hoodie's branding appeal.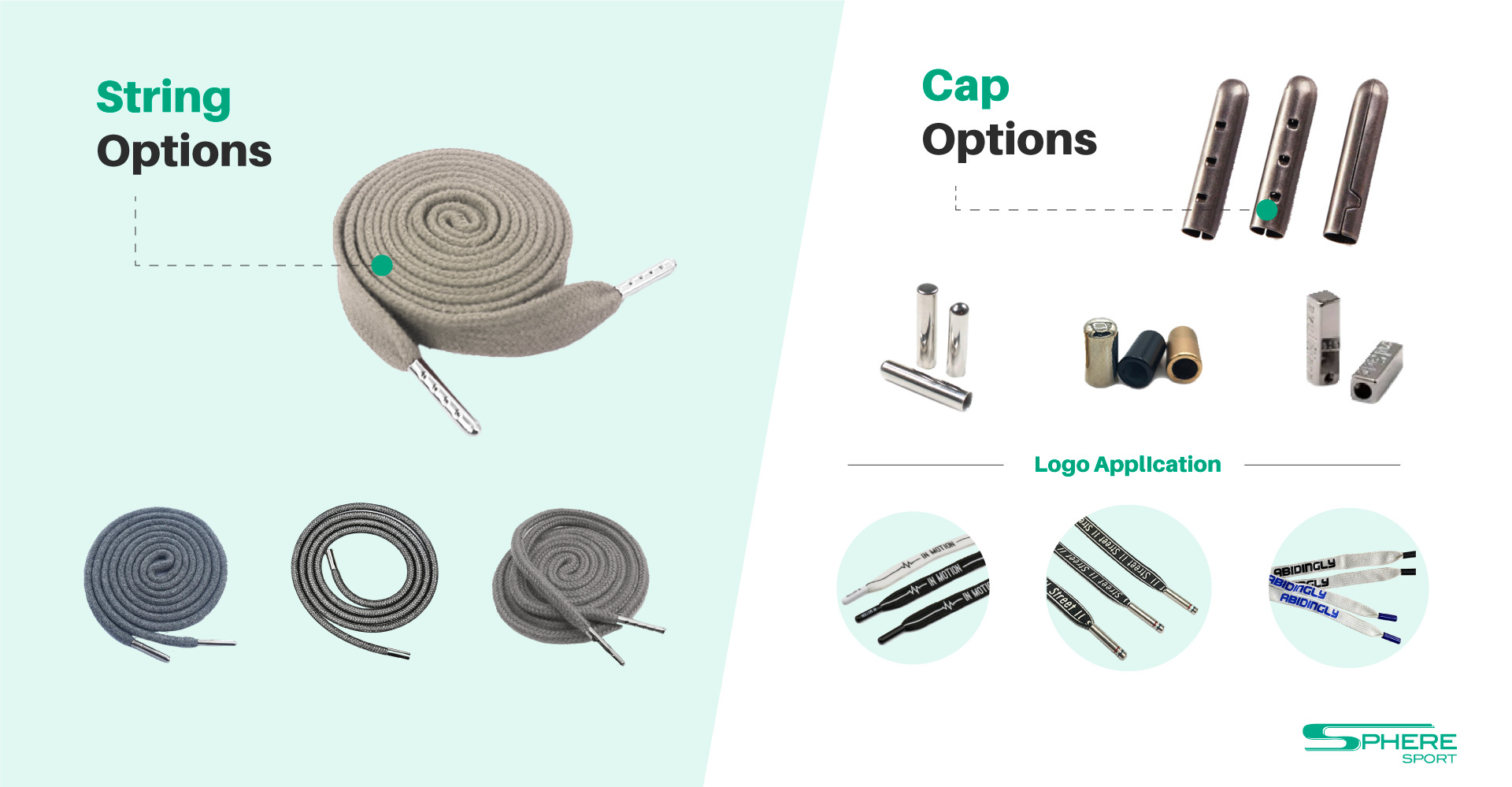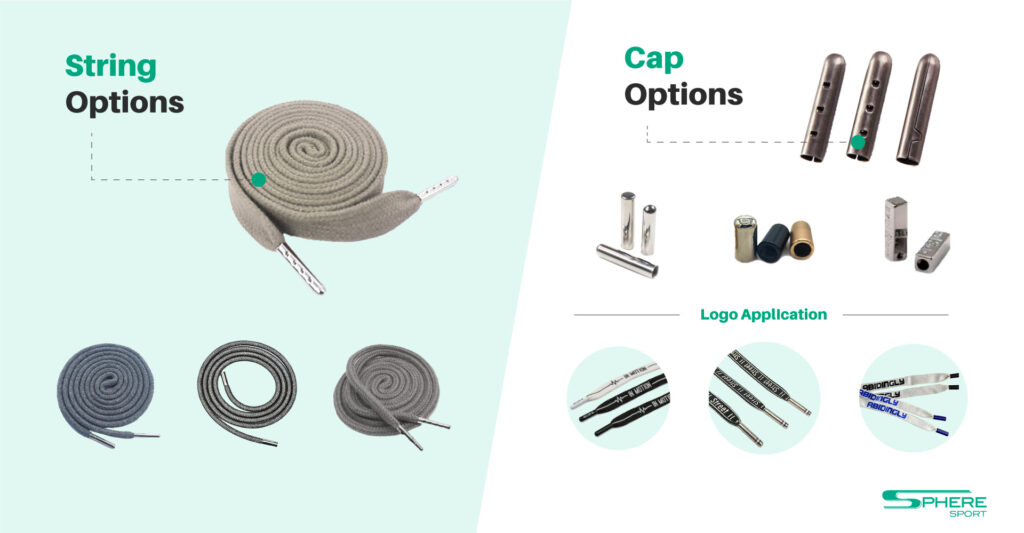 Flat Drawstrings: Flat drawstrings are a popular choice for hoodies, offering a sleek and minimalist look.
Round Drawstrings: For a traditional, classic appearance, choose round drawstrings. These strings provide a comfortable grip when adjusting the hoodie's hood or neckline.
Braided Cords: Braided cords add a touch of sophistication and texture to your hoodie's design. Intertwined strands also create durability and a unique look.
String caps: String caps, such as metal aglets, branded plastic caps, or customized toggles, are additional details that contribute to the overall aesthetic and functionality of the hoodie.
To further enhance the branding of your hoodie, consider customizing the strings with branding elements. For instance, match your brand's colors, add logo tags, or imprint the brand name along the length of the strings. These touches create a cohesive and recognizable look for your brand.
As your hoodie manufacturer, we understand the importance of these small yet significant details, We are here to help you select the perfect string styles and customization options to leverage your hoodie.
7. Choosing the Perfect Hood Style
The hood of a hoodie serves as a functional element and plays a significant role in defining its overall style. As your hoodie manufacturer, we offer a range of hood styles to cater to diverse tastes and preferences.
Standard Hoods: Standard hoods is the timeless choice. They provide reliable protection against the elements and are suitable for a wide range of brands and customer preferences.
Oversized Hoods: Oversized hoods have gained popularity in recent years for their fashion-forward and relaxed appeal. Common for brands targeting urban fashion and streetwear aesthetics.
Cowl Neck Hoods: Cowl neck hoods offer a unique twist to traditional hood styles. They feature an extended collar that drapes loosely around the neck, resembling a cowl neckline.
Detachable Hoods: These offer versatility in various weather conditions and styles. They can be effortlessly added to or detached from the hoodie, enabling you to switch between hooded and non-hooded look.
When selecting a hood style, it is essential to consider how it complements your overall design and aligns with your target market's preferences.
8. Adding On-Apparel Branding
Incorporating on-apparel branding elements is more than a marketing strategy. It's also a statement of quality, professionalism, and unique identity. From neck tags to printed linings, your hoodie becomes a canvas for your brand's story.
As your hoodie manufacturer, we understand the importance of on-apparel branding, and we offer various techniques to help you achieve maximum brand visibility.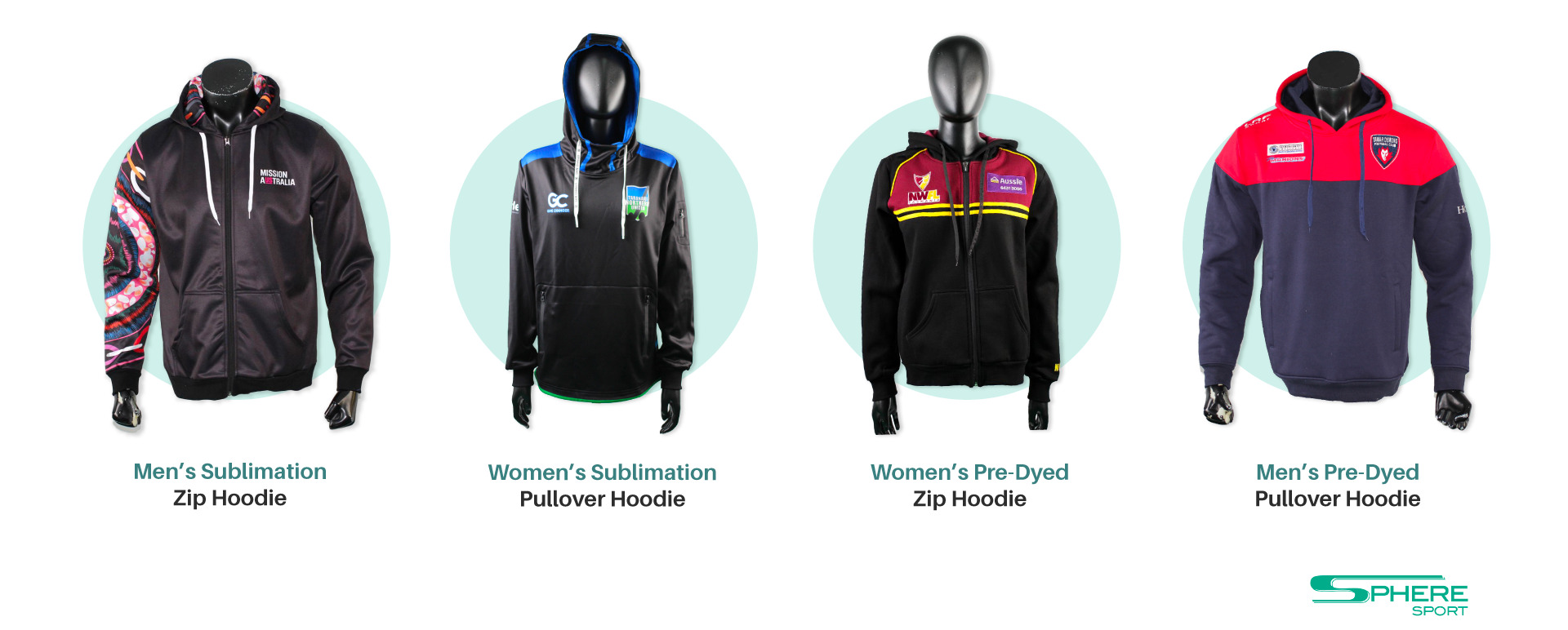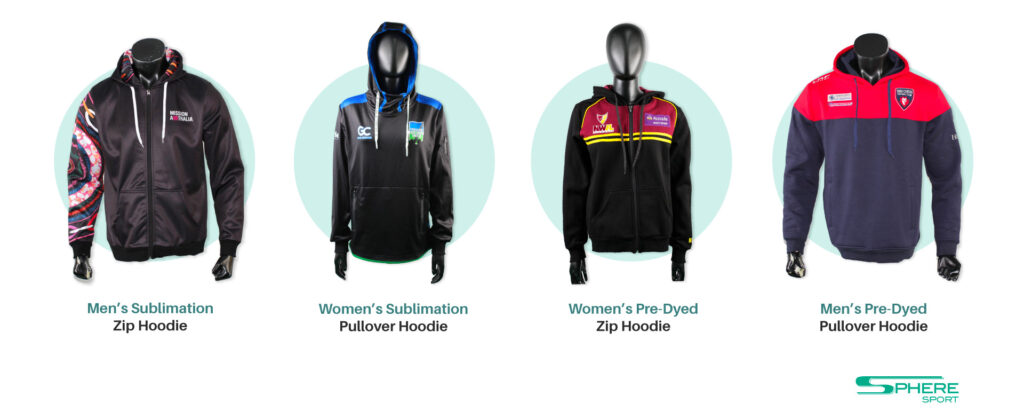 Neck Tags: Choose from woven, satin, or printed neck tags to subtly feature your logo, tagline, or care instructions inside the neckline.
Hang Tags: These are tags attached outside of the hoodie, often dangling from the neckline or side. They can display your brand's logo, extra product details, or customer call-to-action.
Badges: Badges are embroidered or woven patches that can be sewn or heat-sealed onto your hoodie. They are particularly popular among brands seeking a rugged or streetwear-inspired look.
Logo on the Lining: Surprise and delight customers with hidden branding in the lining. This technique can be achieved through printed, embroidered , or custom labels sewn into the lining.
On-apparel branding has diverse techniques to align with your hoodie style. Choose embroidery for a classic textured look, woven labels for intricate designs, or heat transfers for a vibrant, budget-friendly solution. Printed tags offer full-color complexity, ideal for detailed designs. Together, these branding elements unify your brand's appearance, enhancing recognition and building loyalty.
9. Choosing Cuff Styles
Cuffs provide a snug fit and add a touch of visual interest to your hoodie design. At Sphere Sport, we offer cuff styles that cater to various tastes and needs.
Ribbed Cuffs: For a timeless, versatile appearance, ribbed cuffs with their stretchy and form-fitting finish are a go-to choice. They add texture and ensure that the sleeves stay in place, fitting various brand aesthetics.
Elastic Cuffs: Elastic cuffs offer a secure and sleek fit, ensuring that the sleeves stay in place. It's also ideal design against cold conditions.
Thumbhole Cuffs: These cuffs feature a small opening near the wrist that allows the wearer to insert their thumb. Thumbhole cuffs also help to keep the sleeves in place during physical activities.
The choice of cuff style can complement the overall hoodie design and contribute to its distinctive appeal. For instance, ribbed cuffs provide a classic and timeless look, while elastic cuffs offer a clean and sleek finish. Thumbhole cuffs add an element of practicality and sportiness.
10. Customizing Packaging
Garment bags not only protect your hoodies during transit but also serve as an elegant and practical storage solution for in-store display. Let's explore different packaging options that hoodie brands can consider customizing.


Velcro Kangaroo: The velcro closure ensures enough security. Printing can be limited to basic branding or logos due to the construction material.
Resealable Poly Bag: This features a sealable top, allowing for multiple openings and closings. The clear surface allows for detailed printing, including images or intricate logos.
Frosted Poly Bag: This is slightly thicker than standard poly bags. The frosted surface provides an elegant look, but printing options may be more limited.
Vela Bag: Made from curbside recycled materials, this paper packaging allows for detailed custom printing. It's an eco-friendly alternative ideal for replacing single-use poly garment protection bags.
If you prefer other alternatives, we also offer a wide range of garment packaging options to choose from, ensuring a seamless alignment with your business requirements and branding.
Sphere Sport as Your Custom Hoodie Manufacturer
As a leading hoodie manufacturer in the industry, we understand the power of customization in building your hoodie brand. That's why our team have built our expertise in delivering highly customized and pro-quality apparel. Our seamless process ensures that your vision for a differentiated hoodie becomes a reality.
From the initial design concept to the final product, we work closely with you to bring your ideas to life and create a hoodie that exceeds your expectations. Contact us today and embark on the path to a truly differentiated hoodie that represents your brand's excellence.